TICKETS ARE SOLD OUT
Thank you Middle Tennessee for your support of our seminarians' education.
What is the Seminarian Education Dinner and Auction all about?
It's about supporting our next generation of priests!  We currently have 21 seminarians in formation and looking forward to ordaining 2 to the priesthood this coming May.  For the last 14 years, the dinner has provided an opportunity for our Catholic community to gather around these men the Tuesday prior to ordination to show our support and raise the needed funds to keep the culture of vocations here in the Diocese of Nashville thriving.  It's powerful to all gather together in one room and get to know each other in a fun, social setting.  If this is your 14th year attending, we are so grateful for your loyal support, if you are thinking about making this your first year to attend, we welcome you with open arms and look forward to having you there!  All are welcome!  We greatly appreciate your continued support or consideration of support and if you have any questions or thoughts, please see below for contact information.
Seminarian Education Dinner and Auction
May 23, 2023, 6:00PM – 9:00PM
Doors open at 5:15PM
Holy Family Catholic Church
9100 Crockett Road
Brentwood, TN 37027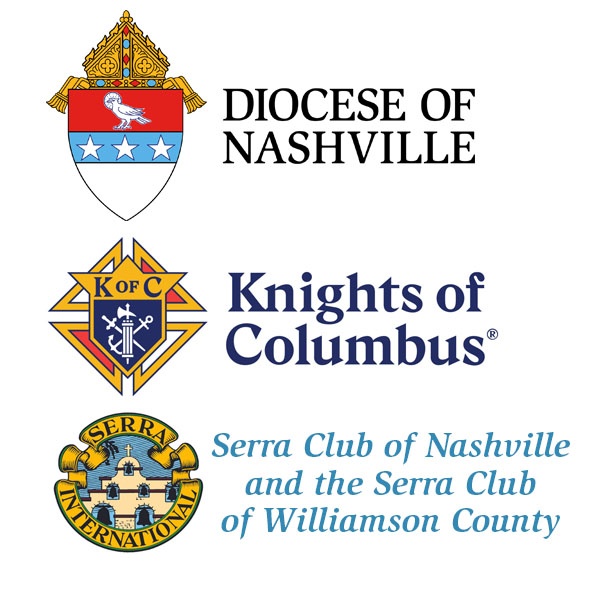 We are Grateful to Our Sponsors
PRESENTING SPONSORS ($25,000+)
Platinum Sponsors ($10,000+)
Supporting Sponsors ($1,250+)
Mary Anderson
Cathedral of the Incarnation
Christ the King Catholic Church
The Equestrian Order of the
Holy Sepulchre
Father Ryan High School
Hardison, Englert, Rader & Co, PC
Holy Family Catholic Church
Knights of Columbus
Knights of Columbus Council, No 7447
Knights of Columbus Tennessee State Council
Knights of Columbus, Holy Family Council,
No 15234
Knights of Columbus,
Our Lady of the Lake Council,
No 9132
Legatus Nashville Chapter
Mary Louise Murphy
Sally Nance
Nativity Catholic Church
Our Lady of the Lake Catholic Church
Kathleen and Eddie Pearson
Pope John Paul II Preparatory School
Saint Patrick Catholic Church, McEwen
Serra Clubs of Nashville and
Williamson County
St. Edward Church
Saint Joseph Church, Madison
St. Patrick Catholic Church, Nashville
Saint Philip Catholic Church
St. Stephen Catholic Community
St. Vincent De Paul Catholic Church
STAR Physical Therapy
Val and John Stockdale
Carol and Bill Whalen
Mary and Bill Word