Most Reverend J. Mark Spalding, J.C.L.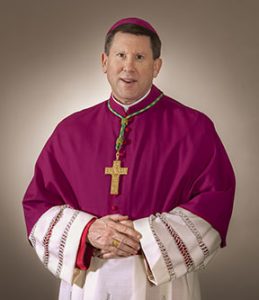 Bishop Spalding was ordained a priest for the Archdiocese of Louisville on August 3, 1991, by Archbishop Thomas C. Kelly, O.P. After ordination, he continued graduate studies at Louvain, earning his Licentiate in Canon Law in 1992. He returned to the Archdiocese in 1992 and served as associate pastor of the Basilica of St. Joseph Proto-Cathedral from 1992 to 1996. He was appointed part-time judge for the Metropolitan Tribunal in 1993, Adjutant Judicial Vicar in 1995, and Judicial Vicar and Director of the Metropolitan Tribunal from 1998 to 2011.
From 1996 to 1998, Bishop Spalding was associate pastor of St. Augustine Church in Lebanon, Kentucky, and from 1998 to 1999, he served as a part-time associate pastor at St. Margaret Mary Church in Louisville. While continuing to serve as Judicial Vicar, Bishop Spalding was appointed pastor of Immaculate Conception Church in La Grange, Kentucky in 1999 and served there until 2011. Appointed Vicar General by Archbishop Joseph Kurtz in 2011, Bishop Spalding was also named pastor of Holy Trinity Church in Louisville that year. In 2016, Bishop Spalding was appointed pastor of Holy Name Church while continuing as pastor of Holy Trinity Church.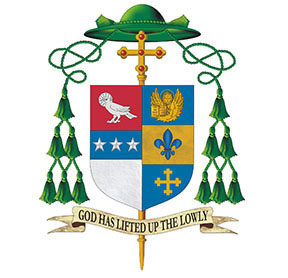 Bishop Spalding served on the College of Consultors, the Priests' Council, the Archdiocesan Planning Commission, the Development Council for the Archdiocese, and the Catholic Services Appeal Pastors' Committee. Other assignments included serving as presbyteral moderator at two parishes as well as filling the role as priest-chaplain at Bethlehem High School from 1992 to 1996, and at Sacred Heart Academy in Louisville from 2011 to 2017.
His appointment as the 12th Bishop of Nashville by Pope Francis was announced on November 21, 2017. His episcopal ordination and installation as the Bishop of Nashville was on February 2, 2018.
Bishop J. Mark Spalding, the oldest of three children, was born on January 13, 1965, in Lebanon, Kentucky, and was baptized at Holy Trinity Church in Fredericktown, Kentucky. His mother Mary Aileen Thompson grew up on a farm in Marion County and his father Joseph Lawrence Spalding was raised on a farm in Washington County. After their marriage, the Spaldings raised their children on a family farm in Washington County. Father Spalding attended Fredericktown Elementary School and Bethlehem High School in Bardstown.
After graduating in 1983 from Bethlehem High School, Bishop Spalding attended college at Saint Meinrad Seminary, graduating with a bachelor's degree in history in 1987. He attended major seminary at the Catholic University of Louvain, Belgium where he earned an M.A. and an S.T.B. in Religious Studies in 1990.