CHILD AND YOUTH PROTECTION
TN DEPARTMENT OF CHILDREN SERVICES 24-HOUR REPORT LINE: 
877-237-0004
DIOCESAN SAFE ENVIRONMENT ADMINISTRATOR
at 615-645-9763
REPORT BISHOP ABUSE
www.ReportBishopAbuse.org or call (800)276-1562
Child and Youth Protection -
Safe Environment Program
The Catholic Bishop Abuse Reporting Service has been established to receive reports of sexual abuse and related misconduct by bishops, and to relay those reports to proper Church authorities for investigation. Where a report includes a crime, such as the sexual abuse of a minor, it will also be reported to civil authorities. Otherwise, reports will be kept confidential.
If you have any other kind of complaint about a bishop—such as parish assignments, church closings, or homily contents—please address those directly to your diocesan or eparchial bishop instead.
Sexual abuse by a priest, deacon or a staff member or volunteer of the Church should be reported to the office of Victim Assistance in your local diocese/eparchy. So, to be sure you get the help you need, phone numbers and addresses may be found on the diocesan/eparchial website.
If you are the victim of sexual abuse (or any other crime), please contact local law enforcement.
SAFE ENVIRONMENT PROGRAMS AND POLICIES
The Diocese of Nashville has been taking strong steps to provide a safe environment for all children. Tennessee State Law requires that anyone who reasonably suspects that abuse is taking place to report it to civil authorities. Experts tell us that an awareness of child abuse and a willingness to respond to any reports that might come forward are two very good ways to prevent future abuse. The policies of the diocese have for many years and continue to fully support the state law. The bishop has further encouraged anyone who knows of, or suspects that abuse has taken place, to make the proper reports to the civil authorities, as well as the diocese if the potential abuser is an employee or volunteer of the diocese or one of its institutions. To assist in providing safe environments, we provide the following contacts to report suspected abuse, diocesan policies, an abuse detection and reporting educational presentation, abuse prevention resources, and information about the Diocesan Safe Environment Committee and Parish Safe Environment Coordinators. The diocesan policies are also available in Spanish for Spanish speaking employees and volunteers.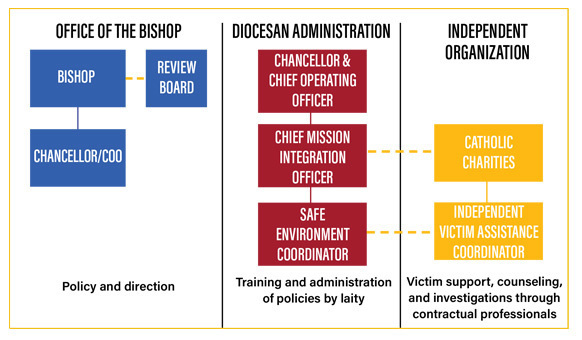 DIOCESAN ABUSE DETECTION AND REPORTING EDUCATIONAL PRESENTATION
Over the years we have used a number of educational programs to prepare Diocesan personnel and others to recognize signs of child abuse and to take steps to respond. The following presentation was used for the first time at the annual teacher in-service training in August 2004. It was created through collaboration between counselors from Catholic Social Services and Diocesan representatives working in conjunction with recognized experts in this area. It may be used as a guide in presentations by a counselor in educational sessions or by individuals as a tutorial on the recognition, reporting and prevention of abuse. It is being posted on the diocesan website and distributed as a CD to all parishes, schools, and institutions to be made widely available to anyone who wishes to learn more about the detection and response to child abuse.
Protecting Our Youth & Maintaining a Safe Environment–The Duty to Report Abuse & Neglect

Protegiendo Nuestros Jovenes y Manteniendo un Ambiente Sano -La Responsabilidad de Reportar Abuso y Negligencia de Niños
DIOCESAN SAFE ENVIRONMENT COMMITTEE AND PARISH SAFE ENVIRONMENT COORDINATORS
The Diocesan Safe Environment Committee serves as a resource for parish Safe Environment Coordinators regarding various aspects of education programs and diocesan policies. For more information, see Diocesan Safe Environment Program under Documents.