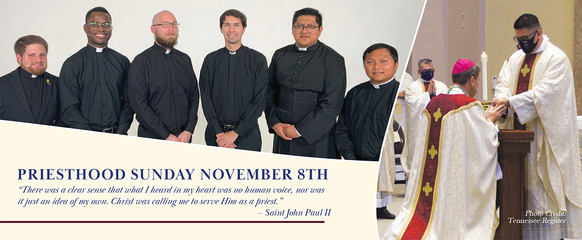 It has been the practice in the Diocese of Nashville in recent years to conduct a special collection on Priesthood Sunday to support the education of our seminarians. The number of men studying for the priesthood drives the need for financial support. Providing support for men discerning a call to the priesthood is a great way to honor the men who have faithfully and fruitfully served the people of the Diocese of Nashville over the years.
For more information about supporting our seminarians, contact the
Seminarian Education Fund
Ashley Linville, 615-645-9768
or ashley.linville@dioceseofnashville.com
Diocese of Nashville • 2800 McGavock Pike • Nashville, TN 37214
Support our Seminarians by making a gift below!