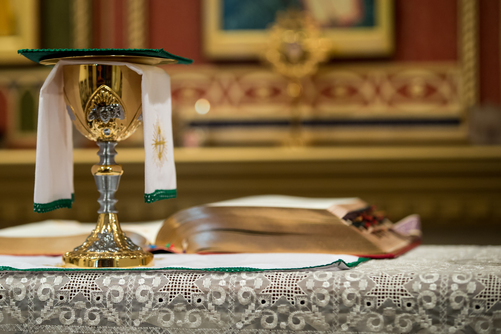 Eucharist
"The Eucharist is 'the source and summit of the Christian life.'
'The other sacraments, and indeed all ecclesiastical ministries and works of the apostolate, are bound up with the Eucharist and are oriented toward it. For in the blessed Eucharist is contained the whole spiritual good of the Church, namely Christ himself, our Pasch.'
"'The Eucharist is the efficacious sign and sublime cause of that communion in the divine life and that unity of the People of God by which the Church is kept in being. It is the culmination both of God's action sanctifying the world in Christ and of the worship men offer to Christ and through him to the Father in the Holy Spirit.'
"Finally, by the Eucharistic celebration we already unite ourselves with the heavenly liturgy and anticipate eternal life, when God will be all in all."  (Catechism of the Catholic Church)
For more information go to USCCB The Mass.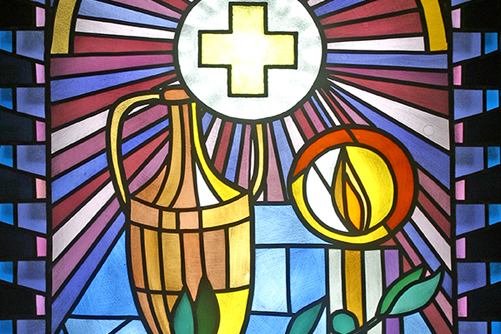 Anointing of the Sick
The purpose of the Church's Sacrament of Anointing of the Sick is to confer special grace on the Christian experiencing the difficulties of serious illness or old age. Through the ministry of the priest, it is Jesus who touches the sick to heal them from sin – and sometimes even from physical ailment. His cures were signs of the arrival of the Kingdom of God. The core message of his healing tells us of his plan to conquer sin and death by his dying and rising.
The Rite of Anointing tells us there is no need to wait until a person is at the point of death to receive the Sacrament. A careful judgment about the serious nature of the illness is sufficient.
When the Sacrament of Anointing of the Sick is given, the hoped-for effect is that, if it be God's will, the person be physically healed of illness. But even if there is no physical healing, the primary effect of the Sacrament is a spiritual healing by which the sick person receives the Holy Spirit's gift of peace and courage to deal with their ailments.
For more information, go to USCCB Anointing Of The Sick.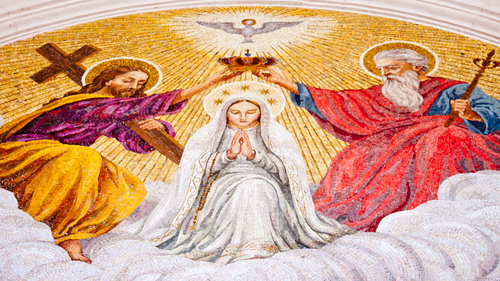 Confirmation
In the Sacrament of Confirmation, the baptized person is "sealed with the gift of the Holy Spirit" and is strengthened for service to the Body of Christ. Confirmation deepens our baptismal life that calls us to be missionary witnesses of Jesus Christ in our families, neighborhoods, society, and the world.  . . .  We receive the message of faith in a deeper and more intensive manner with great emphasis given to the person of Jesus Christ, who asked the Father to give the Holy Spirit to the Church for building up the community in loving service.

For more information so to USCCB Confirmation.
The Seven Sacraments are administered through your local parish. Please contact you local parish for more information. Find the nearest Church near you.
Information on the Catholic Church
Information on Funerals see Calvary Cemetery Webpage
Norms of the Diocese of Nashville