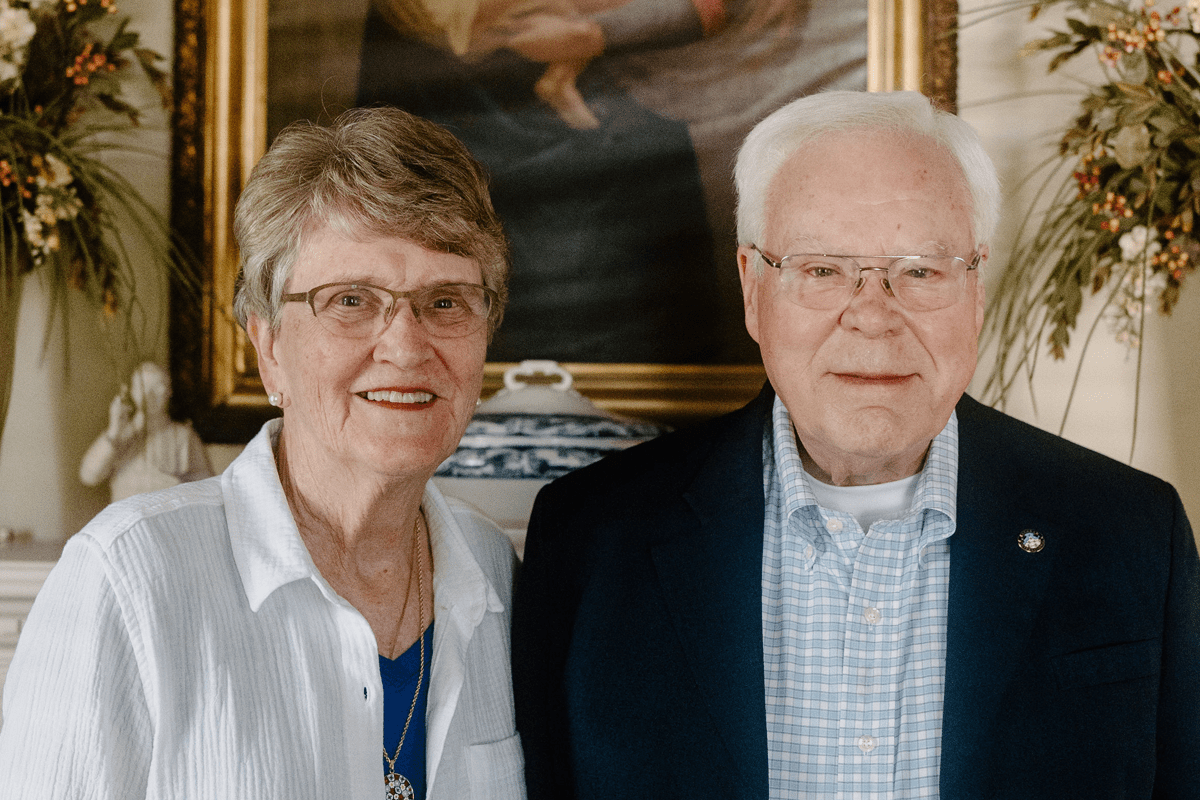 Cultivating Futures:
The Crocketts' Planned Gift Nurtures Opportunities for Seminarians
""It takes a noble man to plant a seed for a tree that will someday give shade to people he may never meet."
— D. Elton Trueblood, American author
This sentiment lies at the core of why Lloyd and Elizabeth "Woo" Crockett decided to create a planned gift aimed at nurturing and supporting the education of seminarians.
Lloyd Crocket reflected on the words that resonated within him countless times: "What greater gift could we as Catholics give our church than to plant the seed in a young man or young woman to become a priest or a religious (sister). What greater gift can we give our church than that.

The profound influence of priests in their lives becomes readily apparent as their story unfolds. Woo, a product of St. Cecilia Academy, was raised in a devout Catholic family in Nashville, guided by the unwavering faith of her mother. "My mother was a strong Catholic. I used to tell her, 'I've got it, mother.' I have her faith. I consider it a gift from the Lord through my mother."

In contrast, Lloyd's journey towards embracing the Catholic Church was set in motion during his college years at Georgetown University—an institution rooted in Catholicism and operated by Jesuits. Raised in the Church of Christ faith and the only young man from Franklin, Tennessee in his college class, Lloyd recalled the first time his classmates invited him to Mass. In the embrace of the Dahlgren Chapel of the Sacred Heart, the oldest chapel on campus, Lloyd felt a divine presence that forever marked his spirit. "I felt the presence of God. I will never ever forget that. That's how God planted the seed in me."
Returning to Franklin post-Georgetown, Lloyd's journey intertwined with Woo's, who happened to be his landlady's niece. "I said, 'Lord, you're telling me something.' " Two weeks before their wedding, Lloyd was baptized into the Catholic Church, marking a significant turning point at age 25.

Following a career that required frequent moves, the Crocketts discovered an unwavering sanctuary in the Catholic Church and the priests who seamlessly integrated into their family life. "Almost every place we've been we developed a personal relationship with our pastor And they've been there for us, through good times and through challenging times," Lloyd added.

Living in Memphis and raising their children, the Crocketts' dedication to fostering vocations crystallized. A pivotal moment occurred when Lloyd declined an invitation to join the Serra Club—an organization dedicated to fostering vocations. Yet, destiny intervened when he attended a transformative Cursillo retreat, prompting a change of heart.

"That Cursillo changed my attitude toward my faith dramatically. Monday after that weekend, I called that friend and said I wanted to become a member of the Serra Club."

Upon returning to Franklin post-retirement in 2002, Lloyd connected with Father Edward Charles Arnold at St. Philip Church and Bishop David Choby, catalyzing the creation of a Serra Club in Williamson County. Inspired by Serra International, Lloyd proposed a fundraising dinner to support the education of seminarians. The first dinner raised $6,000.

A steadfast legacy soared during Bishop Choby's tenure, with Lloyd's aspiration carried forward by the embrace of Bishop J. Mark Spalding. This year, the Seminarian Education Fund Dinner raised $350,000. The Diocese of Nashville now nurtures 28 seminarians at a cost of $75,000 each annually, kindling the Crocketts' zeal for planned giving.

"I've seen the transformational impact planned giving has on the church," Lloyd, who served as the Diocese of Memphis' first planned giving director, affirmed. "Eighty percent of planned gifts that come to the church will come through a bequest, through a person's wills. Most people as you get older, wonder am I going to outlast my assets? The last thing they want is to be dependent on their children so they are reluctant to let loose of their assets during their lifetime. But in their wills, whatever is left over, can showcase their faith and reflect their support of the church."

The Crocketts' thoughtful planned gift is a heartfelt endeavor, aimed at ensuring seminarians have access to education, mentorship, and resources, all coming together in a beautiful testament to nurturing and enriching the future of the Church.

"These young men will be the people who will baptize our great-grandchildren, they will bury us, it's just exciting. If you meet these young men, you can't help but be excited. It's where God is. It brings us great joy," Woo concluded.
Families have a multitude of avenues to leave a meaningful and lasting planned gift to support causes close to their hearts within the Church. From designating a specific amount or percentage of their estate to establishing charitable trusts or endowments, the options are diverse and adaptable to each family's unique circumstances. 
Additionally, including the Church in one's will, creating a donor-advised fund, or contributing to a legacy society can all contribute to leaving a powerful legacy of support for the causes that resonate deeply. 
By carefully considering the available options and consulting with financial and legal advisors, families can ensure that their passion for their chosen cause in the Church will continue to make a transformative impact for generations to come. 
To learn more or to discuss planned giving options within the Diocese of Nashville, contact:
Ashley Linville
Director of Development
ashley.linville@dioceseofnashville.com
615.645.9768
Matt Wilson
Planned Giving Consultant
matt.wilson@dioceseofnashville.com
615.783.0278