TUESDAY, APRIL 4, BRING THE FAMILY TO THE OPEN HOUSE AND CHRISM MASS!
OPEN HOUSE BEGINS AT 4:30 p.m.
Complimentary food and refreshments. 
Meet ministries from around the diocese
and more.
CHRISM MASS BEGINS  AT 6:30 p.m.
Mass is approximately 90 minutes. Arrive early to grab complimentary food and refreshments.
WHO SHOULD ATTEND
Calling every Catholic in the Diocese of Nashville. This event is for you! This family event is a great way for parishioners from all 38 counties in Middle Tennessee to gather, make new friends, and celebrate our shared love of our Lord, Jesus Christ.
WHAT IS THE CHRISM MASS AND WHY IS IT IMPORTANT?
Each year, during Holy Week, priests of the diocese publicly renew their commitment to priestly service. Priests are brought together and concelebrate this Mass as witnesses and cooperators with their bishop in the consecration of the chrism because they share in the sacred office of the bishop in building up and sanctifying the people of God. The blessing of the oil of the sick, the blessing of the oil of catechumens, and the consecration of the chrism are an essential part of this Mass. This Mass is, therefore, a clear expression of the unity of the priesthood and sacrifice of Christ, which continues to be present in the Church.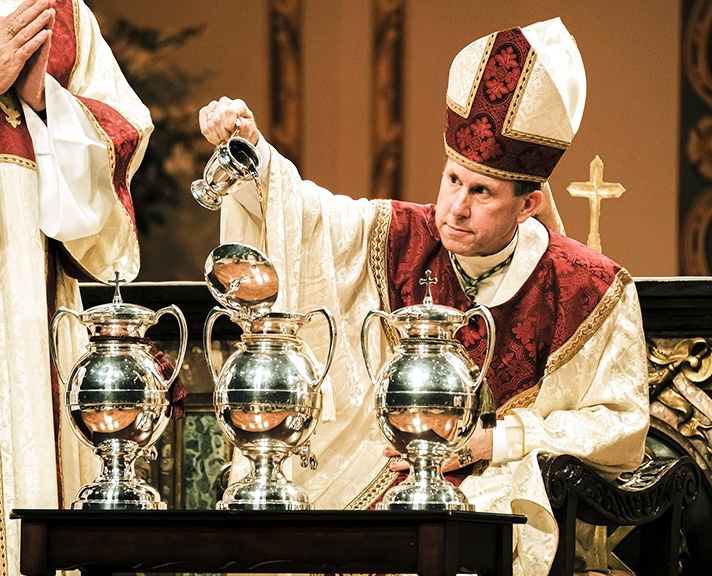 WHY ARE CONSECRATED OILS SO IMPORTANT?
In 2010 Pope Benedict XVI described the purpose of holy oils throughout the lifespan of a faithful Catholic.