Synod Homily, Bishop Spalding
(October 17, 2021)
Prayer is an essential part of the synodal process.  In his homily, our shepherd, Bishop J. Mark Spalding, reflects on the importance of the Synod on Synodality. Below, you will find a prayer that is ideal for both personal and liturgical use as well as a homily from the Holy Father for the opening of the synodal process.
Prayer for the Synod: Adsumus Sancte Spiritus
Every session of the Second Vatican Council began with the prayer Adsumus Sancte Spiritus, the first word of the Latin original meaning, "We stand before You, Holy Spirit," which has been historically used at Councils, Synods and other Church gatherings for hundreds of years, being attributed to Saint Isidore of Seville (c. 560 – 4 April 636). As we are called to embrace this synodal path of the Synod 2021-2023, this prayer invites the Holy Spirit to operate within us so that we may be a community and a people of grace. For the Synod 2021-2023, we propose to use this simplified version, so that any group or liturgical assembly can pray more easily.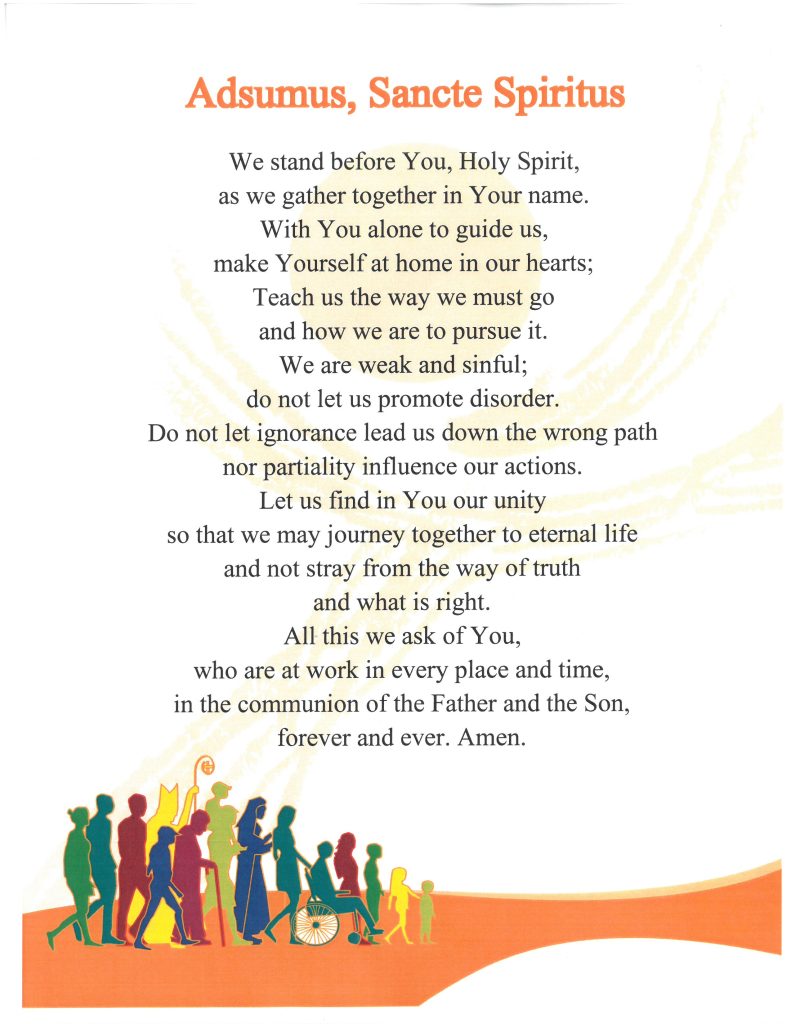 Homilía Sinodal, Obispo Spalding
(17 de octubre de 2021)
La oración es una parte esencial del proceso sinodal. En su homilía, nuestro pastor, el Obispo J. Mark Spalding, reflexiona sobre la importancia del Sínodo sobre la Sinodalidad. A continuación, encontrará una oración ideal tanto para uso personal como litúrgico, así como una homilía del Santo Padre para la apertura del proceso sinodal.
Oración por el Sínodo: Adsumus Sancte Spiritus
Cada sesión del Concilio Vaticano II comenzó con la oración Adsumus Sancte Spiritus, las primeras palabras del original latino que significan: "Estamos ante ti, Espíritu Santo", que se ha utilizado históricamente en Concilios, Sínodos y otras reuniones de la Iglesia durante cientos de años, siendo atribuida a San Isidoro de Sevilla (c. 560 – 4 de abril de 636). Al ser llamados a abrazar este camino sinodal del Sínodo 2021-2023, esta oración invita al Espíritu Santo a actuar en nosotros para que seamos una comunidad y un pueblo de gracia. Para el Sínodo 2021-2023, proponemos utilizar esta versión simplificada, para que cualquier grupo o asamblea litúrgica pueda rezarla más fácilmente.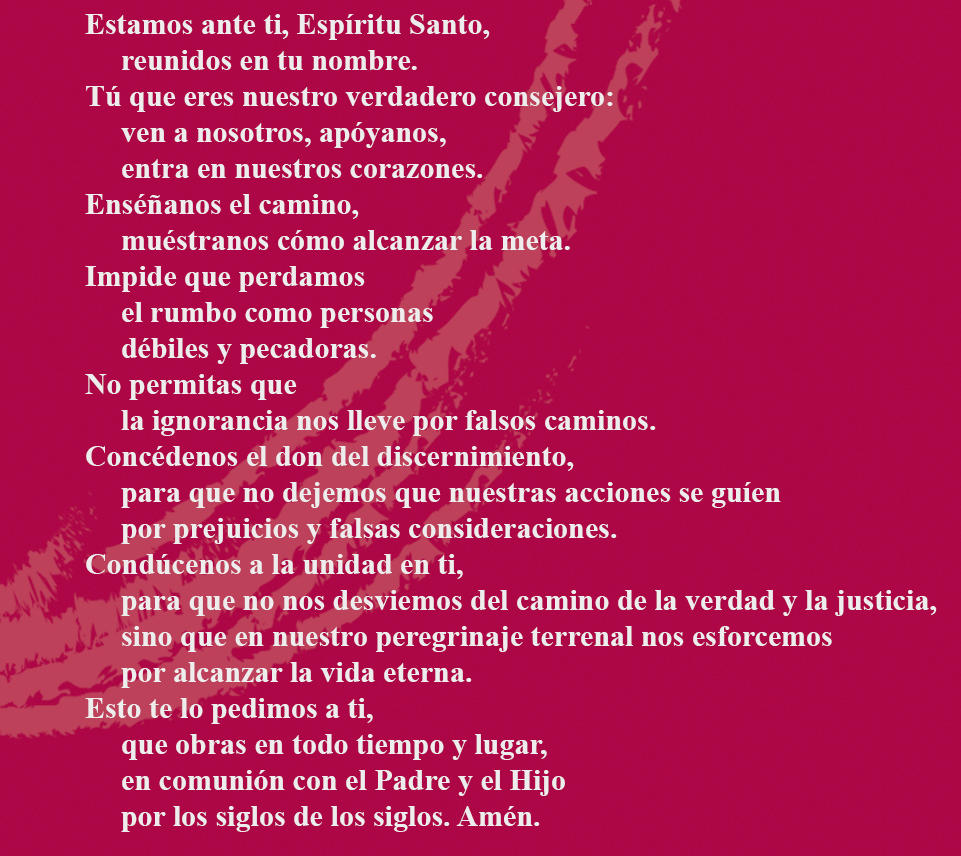 Dr. Brad Peper
Director of the Office of Faith Formation
Director de la Oficina de Formación en la Fe
Erin A. Stracener
Director of the Tribunal
Director del Tribunal